There's a new mega show hitting HBO next month – about the music industry, fame, and lots and lots of sex.
It's called "The Idol," and though the show has yet to debut publicly, it's already made a world of headlines.
"The Idol" comes from Abel Tesfaye, known more popularly as The Weeknd, and Sam Levinson, the showrunner of another hit HBO show, "Euphoria." "The Idol" follows a budding pop star, Jocelyn, played by 23-year-old Lily-Rose Depp, who falls in love with a cult leader and nightclub owner, played by Tesfaye. The resulting romance is whirlwind to say the least – and has been labeled as downright abusive and pornographic by some critics. (HBO and CNN share parent company Warner Bros. Discovery.)
Though "The Idol" first screened for critics Monday at the Cannes Film Festival, controversy has been swirling around the production months before anyone had seen it. The first director left the show with about 80% of it completed, Rolling Stone reported earlier this year, citing sources who spoke of a chaotic production environment. As of Thursday afternoon, the show has a 27% approval rating on Rotten Tomatoes.
CNN has reached out to representatives for "The Idol." Outside of what was shown at Cannes, HBO has not provided screeners of the show for review.
With the show set to debut on June 4, here's a summary of the controversies surrounding "The Idol."
A report described a chaotic set and toxic storylines
In March, Rolling Stone published its report on the production of "The Idol," interviewing 13 unnamed sources who claim the show had gone "wildly, disgustingly off the rails."
In April 2022, director Amy Seimetz left the production despite having already finished most of the six-episode series. At that time, the show was supposed to debut at the end of 2022. But Levinson took over the production following her exit and, according to Rolling Stone, he decided to rewrite and reshoot the show, causing a delay.
Levinson changed the core of the show, according to Rolling Stone. Where Seimetz had approached the story through the lens of Depp's character – envisioning a tale about the twisted effects of fame and a carnivorous industry – Levinson's approach was more focused on a toxic romance, the report said.
Producers who spoke to Rolling Stone claimed the production was chaotic, full of half-written scripts and reshot scenes.
HBO told Rolling Stone in a statement that the show's "creative team has been committed to creating a safe, collaborative and mutually respectful working environment, and last year, the team made creative changes they felt were in the best interest of both the production and the cast and crew."
In response to Rolling Stone's report, Tesfaye posted a clip of the show on Twitter, in which Depp's character refuses a Rolling Stone cover because the magazine is too "irrelevant." He captioned the clip with "(Rolling Stone) did we upset you?"
Despite negative reviews and allegations, the stars have stood by 'The Idol'
Critics' response following the show's debut at Cannes this week has been largely negative. Though some have praised some of the actors' performances, Levinson's direction – and the story overall – have been criticized.
"Levinson applies his efficient and stylish direction to every scene. Some of them have momentum, others are contradictory and most of them are confusing," The Hollywood Reporter noted. "Rarely does a scene go by without the camera showing flashes of her breasts or ass. You start to wonder if this is building to anything, and by episode two it seems likely that it's probably not."
Variety called the show a "sordid male fantasy," writing: "It shouldn't take degradation and suffering to make Jocelyn stronger. 'Euphoria' audiences won't be too surprised by the shameful way (Levinson) treats Depp's character, as both she and the show appear trapped under The Weeknd's thumb."
Others have put it more bluntly, simply calling the show "gross and sexist."
But those involved have stood by Levinson and "The Idol."
"It's always a little sad and disheartening to see mean, false things said about someone you care about. It wasn't reflective at all of my experience," said Depp, responding to the Rolling Stone article.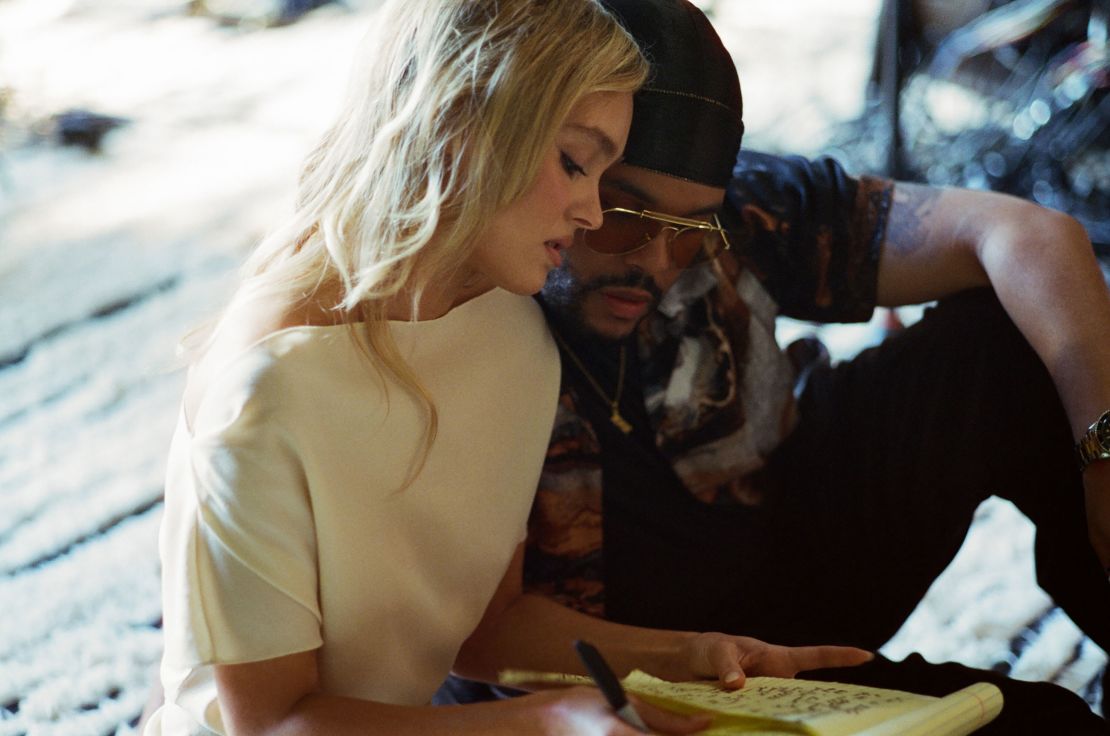 Tesfaye also defended the show at Cannes, saying: "We initially wanted to make a dark, twisted fairy tale with the music industry and everything I know about it, and heighten it."
Hank Azaria also called his time on the show "the opposite" of a chaotic set, while Jane Adams called Levinson "brilliant."
"I'm getting very upset in this society," Adams said. "Can we just create? Can we get messy and be free to think?"
Levinson, for his part, didn't appear publicly concerned at the Cannes press conference. He said after his wife read him the Rolling Stone article, he told her: "I think we're about to have the biggest show of the summer."
This isn't the first time Sam Levinson has been under the microscope
Levinson is most known for creating the Emmy-winning hit show "Euphoria," starring Zendaya, based on an Israeli show of the same name.
Despite the show's popularity, criticism has been leveled at Levinson for its seemingly gratuitous and graphic portrayals of nudity and sex, particularly for a show about teenagers.
But several cast members on the show have stated they've felt comfortable with the amount of nudity, noting there have always been intimacy coordinators on set confirming their safety and comfort. Still, at least four cast members – Sydney Sweeney, Minka Kelly, Chloe Cherry, and Martha Kelly – have said they pushed back at times when they felt nudity wasn't necessary.
Sweeney, who plays Cassie Howard on the show, has praised Levinson for making her feel comfortable.
"There are moments where Cassie was supposed to be shirtless and I would tell Sam, 'I don't really think that's necessary here.' He was like, 'OK, we don't need it,'" Sweeney told The Independent in 2022. "I've never felt like Sam has pushed it on me or was trying to get a nude scene into an HBO show. When I didn't want to do it, he didn't make me."
"The Idol" will air on HBO and stream on Max, formerly HBO Max, on June 4.
CNN's Scottie Andrew contributed to this report.